Maryland is serious about keeping our kids tobacco-free and is increasing educational efforts and retailer compliance checks across the state. 
The Health Department acknowledges that retailers are an important part of our communities, providing goods and services to residents of all ages. Retailers licensed to sell tobacco and tobacco-related products are uniquely positioned to act responsibly and help reduce and eliminate underage access to these products in Maryland.
It is a fact that the later in life individuals delay their introduction to the use of tobacco products, the less likely they are to use tobacco or nicotine products in any form. Studies also show that effectively enforcing laws against cigarette sales to kids through regular compliance checks and penalizing retailers that sell to kids can significantly reduce youth smoking.
Strictly enforcing laws prohibiting tobacco sales to minors reduces youth smoking and, along with community and school-based educational outreach and making available tobacco cessation (or "quit" ) programs, is an important component of any comprehensive tobacco prevention campaign.
While every state forbids retail sales to minors, failure to enforce minimum-age laws not only wastes a constructive opportunity to reduce youth smoking  . . . but also tells kids that the laws need not be taken seriously – which undermines other tobacco-reduction efforts in the media, schools, and communities. Understanding the roles retailers play in preventing tobacco sales to minors is essential.
Tobacco retailers are required by law to:
Ask for photo ID for anyone under 27
Check to make sure everyone is at least 18
Refuse to sell tobacco to anyone under 18
In response to data in recent years showing an alarming increase in the number of licensed tobacco retailers in Maryland who sell tobacco to minors, the DHMH Center for Tobacco Prevention & Control launched the Responsible Tobacco Retailer Initiative. This Initiative aims to reduce youth access to tobacco products by promoting responsible tobacco retailing and reinforcing that selling tobacco to youth under the age of 18 is in violation of local, state and federal laws.
Together, Local Health Departments across the state, community-­based organizations, the Legal Resource Center for Public Health Policy, the Office of the Comptroller, the Behavioral Health Administration, and the Center for Tobacco Prevention & Control are partnering to increase educational and enforcement efforts statewide to assist retailers with remaining in compliance with all youth tobacco sales laws.
To put it simply—selling, distributing or promoting tobacco products to anyone under 18 years of age is illegal.  If you see suspicious activity, please report it by calling 410-612-1771.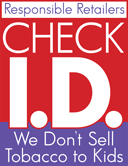 Maryland Responsible Tobacco Retailer Online Training 
For more information about the Maryland Department of Health and Mental Hygiene Center for Tobacco Prevention & Control "Responsible Tobacco Retailer Initiative", also visit:
http://phpa.dhmh.maryland.gov/ohpetup/pages/tob_local_initiatives.aspx